Back To Our Services
Simply put, welding includes joining two or more metal parts together through a heating process. When it comes to wrought iron gates, welding is extremely important since bars, hinges and ornaments are welded onto the main body of the gate and they generally last longer. There are different ways of welding parts depending on the material, but regardless of the method, this is the most effective way to be certain that your gate is strong. With the help of our services, you will continue to enjoy your beautiful ornamental iron gates because our technicians can fix broken and damaged parts, which need welding reinforcement. Our company can help you in timely fashion when some welded on components become damaged and the gate fails to move properly. In such instances, our technicians offer gate welding services to make sure the panel is stable and well-balanced.
Contact our team for gate welding services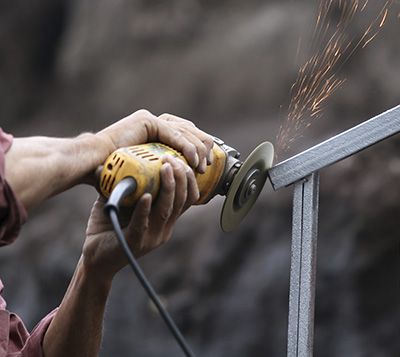 Welding services could come in handy if you want to shape up brand new gates or give your existing one some character by attaching family emblems and ornaments. Our gate welding services will also be useful when welded parts are damaged. Take your swing gate hinges, for example. With most hinges being welded, it is essential to fix them when they start sagging or get damaged from a storm or an accident with the car. With the hinges sagging and the panel not closing right, you will have security issues. If such issues won't be addressed at once, the panel might be further damaged and other parts – like supportive wheels and posts – will wear, too.
Hinge welding repair becomes urgent when the problem is substantial. If, for example, the hinges have broken, the whole gate could fall. For the avoidance of such serious problems and possibly accidents, it's imperative that you notify our company if you are dealing with similar issues. Well-equipped and trained to offer welding services, our technicians can help you in a timely manner. Our gate repair includes fixing the damaged welded part, checking that the gate moves properly, and making sure it is balanced and closes right.
The professionals of our company know how to take care of such problems and can weld on and fix welded-on components of all types of residential gates. If you have been having swing gate adjustment issues lately and wondering whether there is a hinge welding problem, you can request our assistance. Let our technicians check it out and help you. Send us a message with such concerns or talk to one of our staff directly on the phone to let us know how we can help.
Back To Our Services