Back To Our Services
With so many gates on the market, it's easy to find what you are looking for. The question is whether you know which one is best for your own property in terms of future maintenance, prices, convenience and durability. Since a new gate installation is supposed to enhance home security and increase the value of your property, there are many things you should consider before you make decisions and actually install a new one. You can rely on our technicians for assistance, advice and services. From providing the right information, updating you on the latest residential gate openers and materials, ordering everything for you and having the new gate installed, our professionals can help you immensely. With us, you will be saving time, money and hassle.
Let us install your new gates for you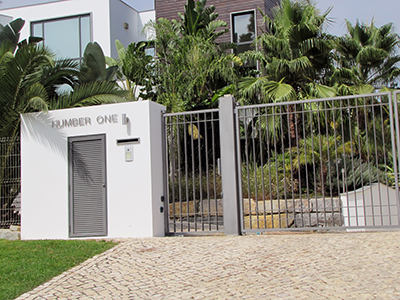 Each gate opens in a different way, but there are some small secrets that actually distinguish similar types of gates. Take cantilever gates, for example. They look and move exactly like sliding ones, but they are supported by a rail that runs across a fence on the side instead of being supported on sliding gate rollers. Such types might be more durable, but they need more space on the side. Before choosing new gates, it's essential that you check out similar details. Factors related to several abnormalities on the ground and slopes at your property, high moisture in the local area or limited space in the driveway will urge you to make entirely different decisions. Let us help you by informing you of what's new on the market, measuring your property and telling you which product will be more suitable for you.
You will have to take into consideration similar factors when choosing the material and size of the gate, but also the opener. There are wood, aluminum and steel options as far as the material is concerned. When it comes to size, you must be sure there is enough space in the driveway and your car can pass through. Our staff can help you find the right rolling or swing gate operator. The power of the motor depends on the size and weight of the gate, but you must also make sure the new operator has the right safety sensors. One of the first things our technicians do when the new products are installed is to check that both primary and secondary entrapment protection features work alright. Residential gate installation and the installation of the new opener are both done with precision so that the client will be sure of the safety of his family. Call us if you have any questions about new systems or need gate repair and installation services!
Back To Our Services