You know what happens when you fail to think of the small details, especially if you are about to make such a serious decision as getting a new steel gate. Mistakes and failures in the system are just around the corner. With so many options on the market, it's often difficult to think of everything and not get confused. So, it's best to start thinking and writing things that come to mind down much earlier. Choosing the material is one of the first things everyone considers but regardless of how important this is, there are still many things to go over before you order your new wrought iron gates. Are you sure iron is fitting for where you live? Are there any particular features at your property – like slopes, narrow corners? Take a look at some very useful tips.
Think before having a new gate installed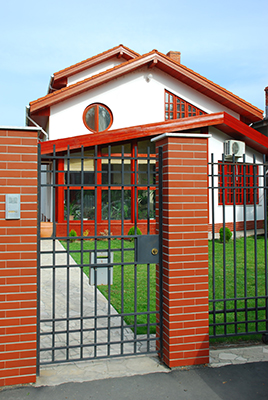 If you already have a gate at home and simply want to replace it, you probably know more or less what to choose. Though, it's good to think things over in case you can make your life more convenient. If this is going to be your very first residential gate installation, you will have to do some more research. The material and size are the first two things you ought to consider. Increasing the look and, thus, value of your property is vital, but you must also think of your convenience. Wood, for example, is beautiful but its maintenance will consume quite a bit of your time. When it comes to the size, be practical. Obviously, the car must fit to go through. It would even be best if you had room for two cars to pass through at once to avoid the inconvenience of having to wait.
If this is your very first gate, choose the most spacious part of your property so that you will be able to get a large gate of any type you like and avoid inconveniences when you take the car in and out. Make sure the posts are installed deep in the ground and are reinforced with cement for the best swing gate adjustment and movement. If you don't like swing panels, get sliding ones or cantilever ones but keep in mind that the latter ones will need plenty of space on the side since they are supported on a rail, which runs on the fence. If you choose swing ones, they must be installed to open inwards instead of outwards so that pedestrians passing by won't be injured. If the area is sloped, it's best to choose bi-parting gates. Whether you choose swing, rolling or overhead gates, make sure they are installed properly and shut right.